Patrick Kesseler (Capt. B747)
Head of Training at Luxembourg Flight Training Academy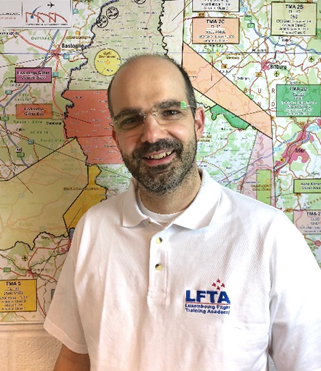 "Here at LFTA me and my team work for YOU and not for shareholders. Therefore, we can focus on you and provide you the best possible training at a real commercial airport. Welcome to LFTA, proudly located at Luxembourg International Airport, in the very heart of Europe.
Enjoy your training."
LFTA – An academy based on excellence and passion
Luxembourg Flight Training Academy was founded in 2012. Until today, we are the only Approved Training Organisation (ATO) in Luxembourg providing the entire range of qualifications of fixed wing flight training.
LFTA being a largely voluntary based organisation, is driven by the passion for flying. Our goal is to enable students to successfully climb the aviation career ladder to become dependable professionals. We aim to enable you to successfully apply for your first pilot job; therefore, motivation and perseverance are our primary concerns.
We base our values on being straight forward, professional and competent. We render the most proficient guidance throughout your training. Since no flight school can promise an airline job after successful pilot training and not everyone has the required sufficient skills to become a pilot, be vigilant about promises made: Wasting time, effort and money on unsuccessful pilot training.
Click for More Info
Our Instructors: Passionate Professionals
30 Flight Instructors and 8 Class Rating Instructors are on duty throughout your training. Our Instructors are world class passionate aviators; eager to teach you all about aviation. We assign a suitable instructor; accommodating your level of experience as well as your availability any time of the week.
You only have time to fly on the week-end? We will find you an instructor that does too; training tailored to your every need.
Whether full time airline professionals, retired airline pilots or highly experienced flight instructors; their common calling is to share their passion during the most proficient training.
As Luxembourg is a multilingual country, so are our instructors with language proficiency in Luxembourgish, French, German and English, as well as Icelandic or Portuguese.
Our Fleet
Our fleet consists of 12 reliable and well maintained airplanes equipped with PBN capable Garmin avionics:
1 Tecnam P2010 – the latest acquisition to our fleet
(180 HP, IFR, autopilot, Garmin G1000 all glass avionics, constant speed propeller)
2 Cessna 172S
(180 HP, IFR, autopilot, Garmin G1000 all glass avionics)
3 Cessna 172
(160 HP)
1 Cessna 182
(235 HP, IFR, autopilot, constant speed propeller)
4 Piper PA28-161
(160 HP)
1 Twin engine Piper PA44
(2×180 HP, IFR, autopilot, retractable gear, constant speed propellers)
Our facilities
2 Classrooms, 3 briefing rooms and two FNPT II flight training devices
Our proximity to the airport is beneficial to close relations with airlines such as Cargolux, Luxembourg Air Rescue, Jetfly and Globaljet; strengthening our training quality. Starting pilot training at a busy international airport increases situational awareness and capabilities to cope with heavy commercial and civil air traffic, even when piloting a small single engine aircraft. Our students learn to cooperate closely with air traffic controllers and other pilots early in their pilot training which strengthens awareness and excellent safety-mindeness when confronted with a busy situation on the ground as well as in the air.
Our facilities have ample space and most up-to-date equipment to maintain high training standards. Our classrooms and briefing rooms are equipped with modern technology to support the latest teaching methods and flight planning. We respect and manage all applicable COVID-19 restrictions.
Our Flight Simulators
Luxembourg Flight Training Academy (LFTA) has acquired from the renowned flight simulator company Alsim two advanced simulators, the AIRLINER, and the AL250. These next-generation simulators will enhance the training experience for students and prepare them for real-world aviation challenges. Installation and EASA certification is ongoing.
Go here for more information on our Flight Training Devices.
Approved Courses
As an EASA approved Flight Training Organisation (ATO), LFTA provides modular flight training for the following licences and qualifications:
Base Training in Accordance with AMC2 ORA.ATO.125
IRI(A) – Instrument Rating Instructor
STI(A) – Synthetic Training Instructor
CRI(A) – Class Rating Instructor
MCCI – Multi Crew Cooperation Instructor
Pre-Entry Requirements
Medical certificate class 1 (class 2 for Private Pilot Licence only)
The aeromedical assessment will check your physical health and will determine if you are fit to fly. During this check, you will be assessed on your eyes and ears, your cardiologic fitness and others. Please do not believe that you have to be a super hero to pass this assessment, however a number of values has to be respected.
Minimum age 17 years (16 years for PPL)
Goog knowledge of Mathematics and Physics
Good knowledge of English
Show Less
xnxx
,
xvideos
,
xvideos
,
hentai
,
porn
,
xnxx
,
sex việt
,
Phim sex
,
tiktok download
,
mp3 download
,
download tiktok
,
Legitimately Meaning
,
save tiktok
,
MY FREE MP3
,
porno
,