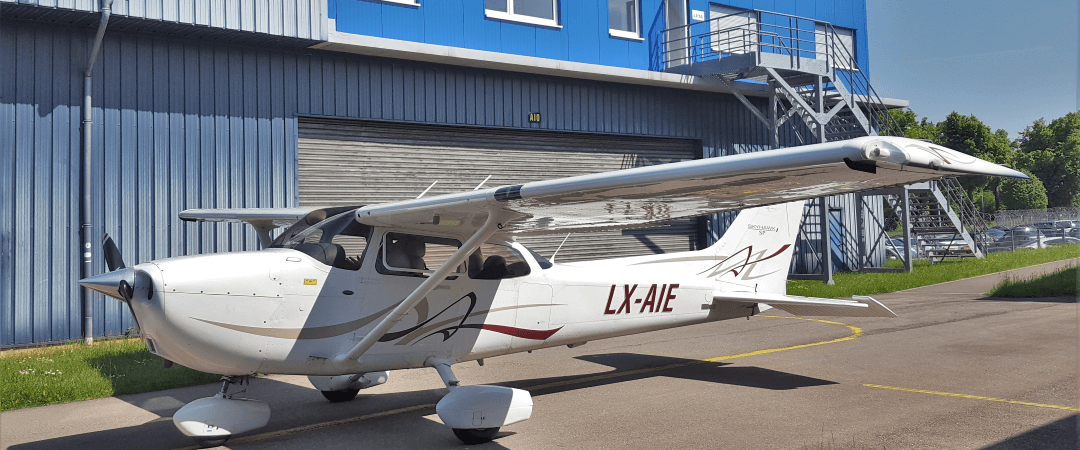 Flight Training for You
Due to the ever growing demand for professional flight training services in the greater Luxembourg region, LFTA was created by Aéro-Sport asbl, Luxembourg's leading Aviation Club.
LFTA is a an approved Flight Training Organisation (ATO) which offers the complete pilot training under the modular system. This allows you to obtain your licences progressively. We have the full range of approuved courses that can take you from the Private Pilot Licence (PPL) to Instrument- and Multi-Engine Rating all the way to the licences for Commercial Pilot and Air Transport Pilot.
The school is approved (LU.ATO.0001) by the Luxembourg authorities (Direction de l'aviation civile) as well as the European Air Safety Agency (EASA) under the current European regulations. LFTA is the only ATO in Luxembourg with a staff of qualified instructors and a large number of airplanes. It is chosen by a large and growing number of students for their pilot Training.

Learn More
Approved Courses
As an EASA approved Flight Training Organisation (ATO), LFTA  provides modular flight training for the following licences and qualifications:
Base Training in Accordance with AMC2 ORA.ATO.125
IRI(A) – Instrument Rating Instructor
STI(A) – Synthetic Training Instructor
CRI(A) – Class Rating Instructor
MCCI – Multi Crew Cooperation Instructor
Training Centre
Our school is located in the very heart of Europe, at Luxembourg international airport (ELLX), which offers a challenging and realistic environment for your flight training. Our students are trained in one of Europe's most complex airspaces.
You will share the runway with airliners and other general aviation traffic. This is a perfect set-up for pilots who wish to pursue a career in professional aviation. Training in the environment of a large international airport adds to your confidence and permits you to concentrate on your new tasks, such as learning a new aircraft type.
Our training centre in Luxembourg is equipped with a state of the art flight simulator (FNPT II), approved by the authorities, which provides professional, effective and complete training using high resolution visuals and realistic cockpit replications.
Classroom and Equipment
LFTA uses the study material (books, online learning, educational videos) from Peters Software GmbH, a proven provider of aviation teaching systems. Of course all our study material is approved by the authorities (EASA), and is comprehensive and pedagogically structured.
Our classrooms are in newly built premises, all equipped with projectors, DVD players, screens, Computers, WiFi and sound systems.
We also offer a separate briefing room with 5 computers for flight planning, printers and high speed internet Access.
Instructors and Staff
Our instructors have been carefully selected for their skills and experience. Most of them are active or retired airline pilots. They will teach you according to airline standards. All instructors have been pedagogically trained in order to provide you with all prerequisites to achieve your aviation objectives.
Our Fleet
Our fleet consists of 12 airplanes; all maintained to EASA standards.
1 Piper PA44     Seminole   twin engine airplane
2 Cessna 172SP  Skyhawk  Garmin G1000 glass cockpit
1 Cessna TR182  Skylane    constant speed propeller, retractable gear, turbocharged, oxygen
1 Cessna 182Q   Skylane    constant speed propeller
3 Cessna 172     Skyhawk
4 Piper P28A     Cadet / Warrior
Our Simulator
We train in our TRU-Mechtronix Ascent flight simulator (Flight Navigation Procedure Trainer Class II – FNPT II), one of the top manufacturers of synthetic flight training devices. This simulator will be used mainly for training towards the instrument rating. Each student will spend about 40 hours in the simulator.
Single engine flight models as well as multi engine flight including turbine engines (Beech 200) models can be simulated.
Pre-Entry Requirements
Minimum age 17 years (16 years for PPL)
Pass the LFTA pre-entry test (Mathematics and Physics)
Good knowledge of English
Medical certificate class 1 (class 2 for PPL only)
____